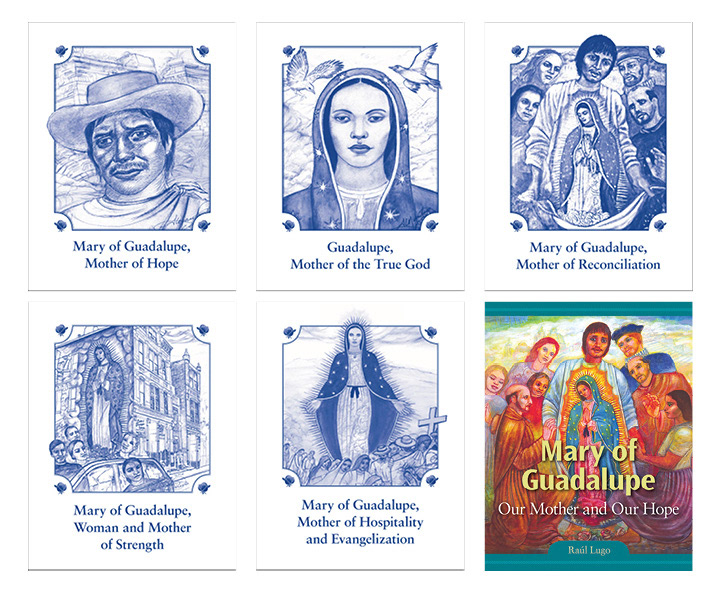 Booklet design by Juan Alberto Castillo http://www.1alber2.com/about/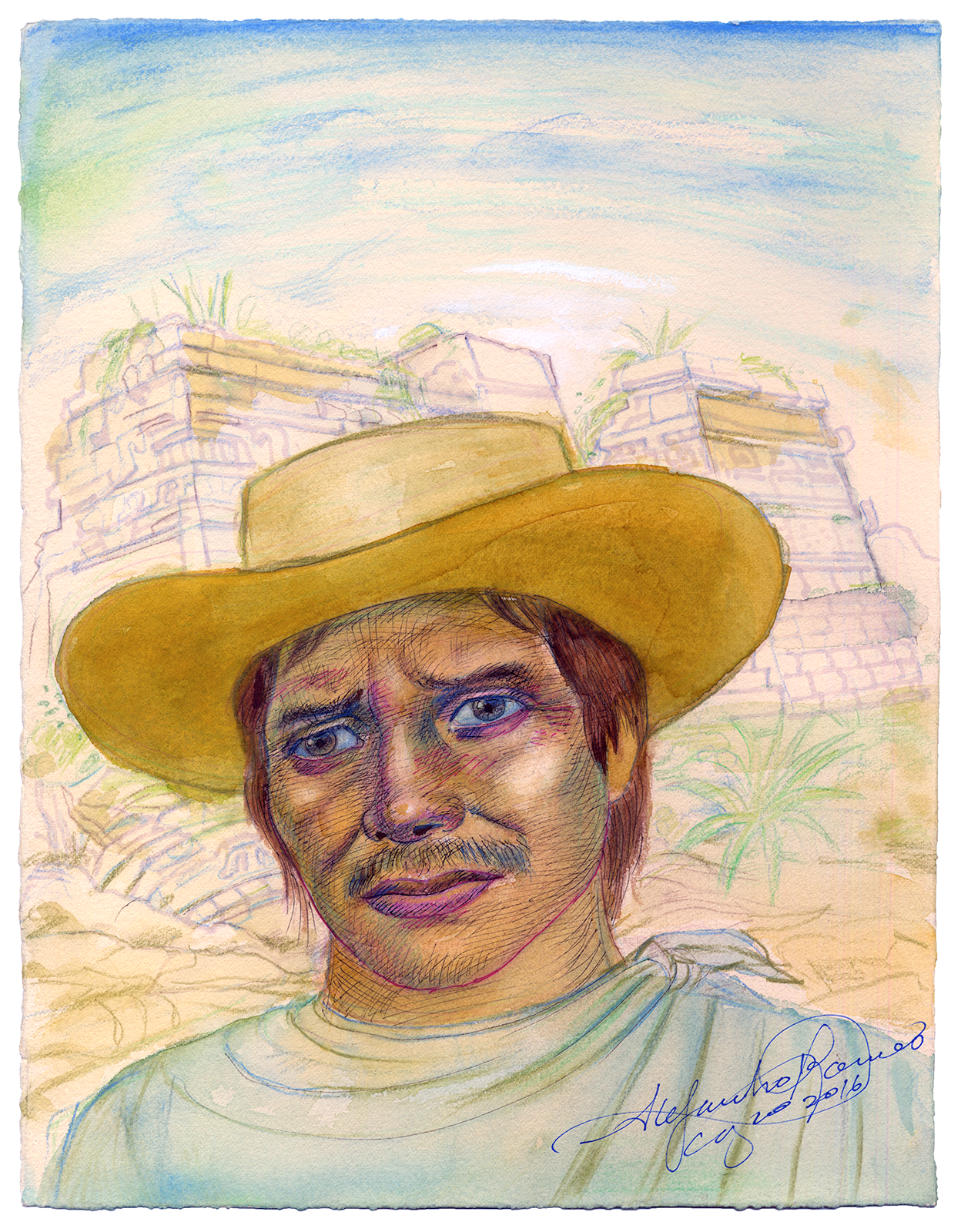 A náhuatl-indigenous male face, showing distress and disorientation, before an old Mexican city/ pyramid in ruins. Juan Diego is a kind of symbol/ representative of people looking for God in the midst of grief, distress, darkness and disorientation. Mary of Guadalupe offers new horizons of life.  Artwork ©
Alejandro Romero
2016.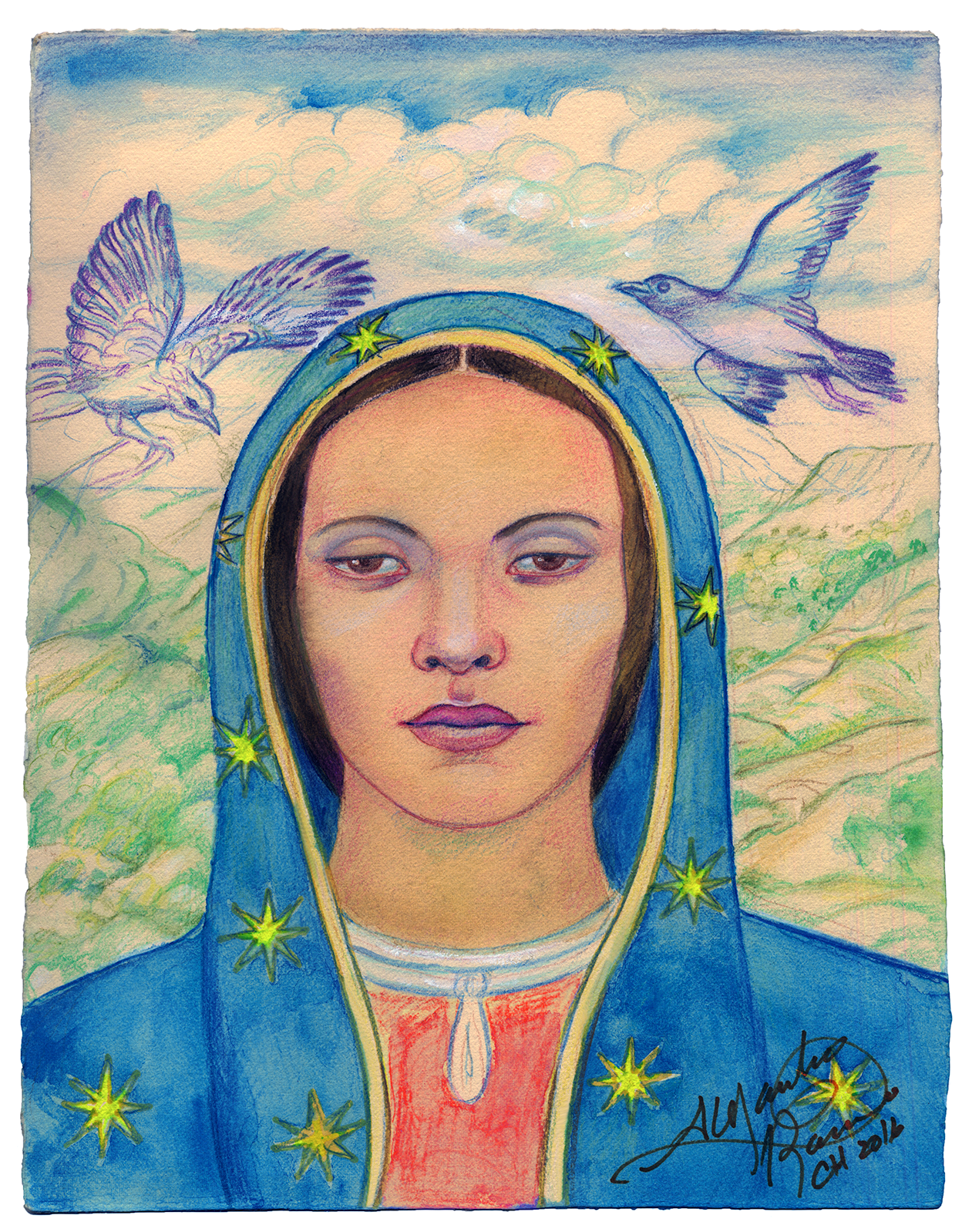 Guadalupe's face, friendly, gentle and young. Background: Anáhuac Valley landscape (Mountains, lakes, cenzontle (mockingbirds) flying… She introduces herself as the Blessed Virgin Mary, mother of the truly God ("Giver of life, Creator of the humankind, Lord and Owner of heaven and earth"). Our Lady of Guadalupe calls us to live together as God's creatures and children. Artwork ©
Alejandro Romero 
2016.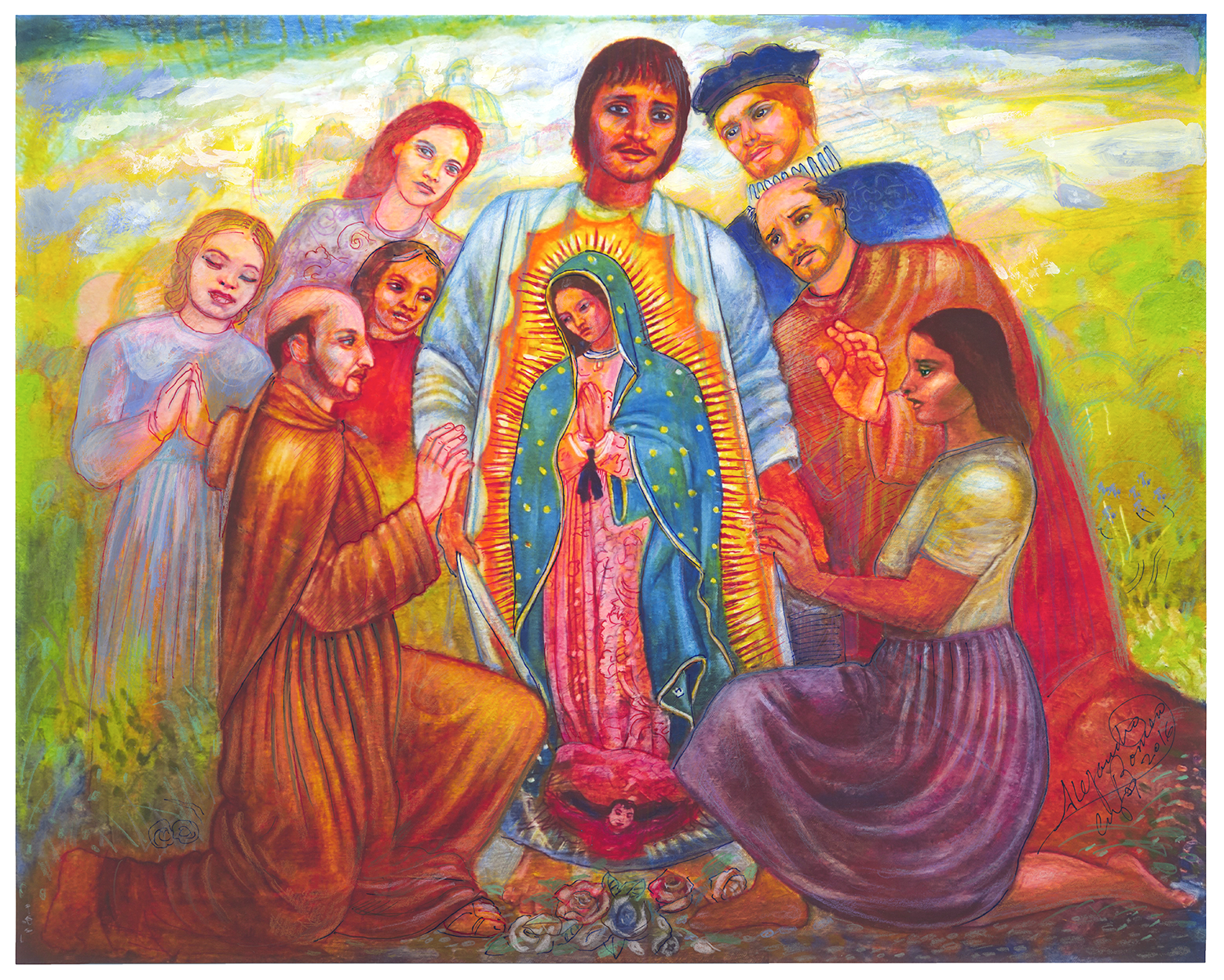 Our Lady of Guadalupe became a "cultural bridge" for the Spanish "conquistadores", who recognized in her image the Immaculate Virgin Mary, and for the native populations who could see in her a woman of their own people, but coming from above. Náhuatls and Spaniards are all her children, and together are called to build a new "mestizo" people, under her mantle. No more war, nor destruction. OLG is mother of everyone, so she reconciled two very different worlds and races, but also many peoples, cultures and nations. She started the Incarnation mestiza of Christ in America, a new beginning for humanity (S. John Paul II). Artwork © Alejandro Romero 2016.

Guadalupe raises and strengthens "the little/ weak" Juan Diego to accomplish his mission even though he is encountering multiple difficulties. She appears repeatedly to him, and even heals the deadly sick to confirm that she is protecting everyone in need. She gives powerful signs and accomplishes her promises. Along the history, she has been banner for multiple social struggles ("luchas") requiring strength and effort: Mexican Independence War, Cristeros War, and César Chávez social struggle (USA). Every Christian as well as every Latino emigrant can find in Guadalupe strength and courage to overcome the difficulties in the everyday life. Artwork © Alejandro Romero 2016.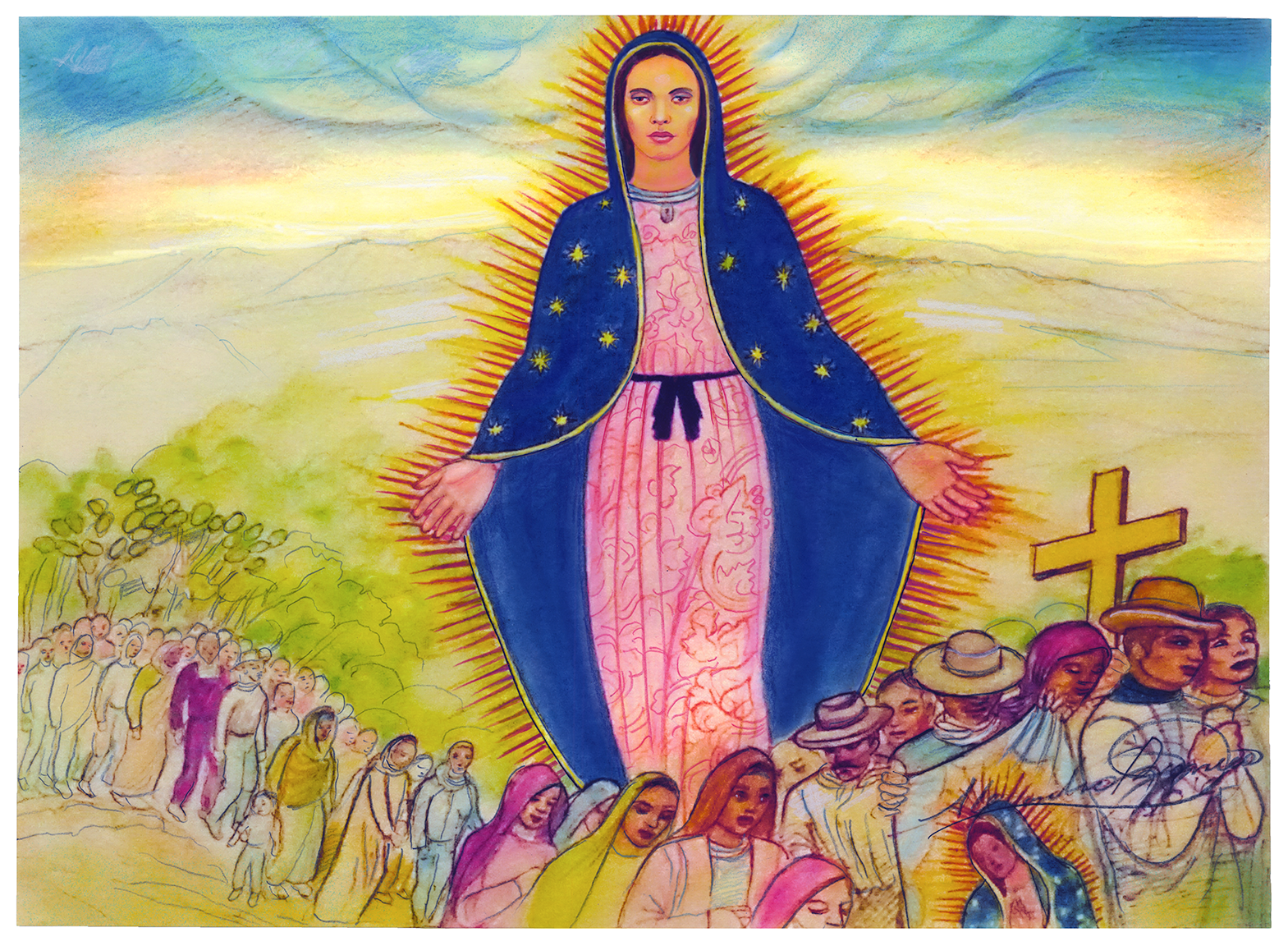 Guadalupe asked for a house in Tepeyac hill, where people can rest, be heard and consoled. She offers her mantle as protection and shelter to everyone in need. She takes care of Juan Diego anxieties and grieves, and she gives him consolation, heal and joy, but also a "happy" task: to make her known as the Mother of the truly God. Her blessed image and message are a Gospel of Jesus Christ for everyone. She is present in every house of the Latino Mexican catholic population. Every home is called to be a Tepeyac. View from a high point: small groups of pilgrims walking toward a mountain with a Cross on top. Guadalupe's arms and mantle open in the sky behind, as background of the picture. Artwork © Alejandro Romero 2016.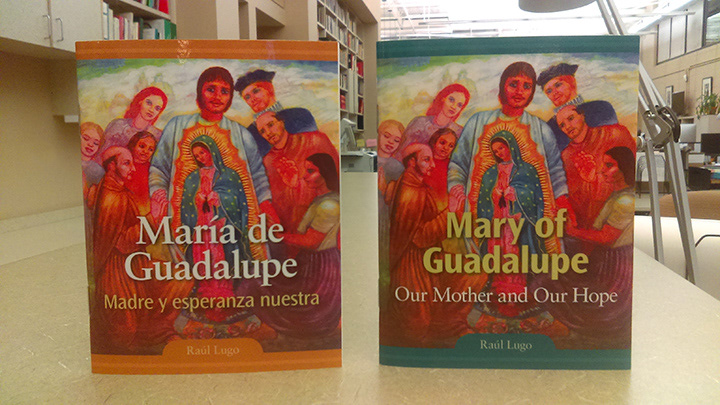 Cover designs by Juan Alberto Castillo http://www.1alber2.com/about/